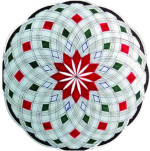 Books Authored
[2021] From Evolution to Revolution: The Kano Emirate, Yesterday, Today and Tomorrow. Paper presented at the Coronation of His Royal Highness, the Emir of Kano, Alhaji Aminu Ado Bayero as the 15th Fulani Emir of Kano, 1st July 2021, Bayero University Kano.
[2014] Imperialism from Below: Transcultural Contra-Flows and the emergence of Metrosexual Hausa Visual Culture. 15th Professorial Inaugural Lecture, Bayero University Kano. Kano: Inaugural Lecture Committee, Bayero University Kano, Nigeria.
[2011] Cultural Reconciliation Among Communities: The Multicultural Emergence of Kano as Panacea for Peaceful Co-existence. Commissionedand published lecture presented at the World Culture Day on 22nd May, 2011 at the International Conference Center, Abuja, Nigeria. Abuja: National Institute for Cultural Orientation.
[2010] The Role of Nigerian Universities in the Actualization of Development Vision. Lapai, Niger State: Ibrahim Badamasi Babangida University, 2010. [University's First Public Lecture].
[2009] Epistemological Dichotomy and Scriptural Transferability: Towards a New Paradigm for Muslim Hausa Indigenous Knowledge. Published as 27th Adeniran Ogunsanya College of Education Distinguished Lecture, Adeniran Ogunsanya College of Education, Otto/Ijanikin, Lagos, 2009.
[2007] Transglobal media flows and Hausa popular culture. Kano: Visually Ethnographic Press.
[2004] Sunset at Dawn, Darkness at Noon: Reconstructing the Mechanisms of Literacy in Indigenous Communities. 7th Professorial Inaugural LectureDelivered on Saturday 24th April 2004, at Bayero University, Kano, Nigeria. Kano: Bayero University Inaugural Lecture Series, No 7, The Vice-Chancellor's Office.
[1994] Reform and Adaptation in Nigerian University Curricula, 1960-1992: Living on a Credit Line. Lewiston, New York: The Edwin Mellen Press. 1994. African Studies Series Volume 33 [320 pp].
[1992] Operation, efficiency and desirability of special science schools at the secondary education level: The Nigerian experience(1992): Paris: International Institute of Educational Planning, UNESCO. [64 pp].
File Size:
846.35 kB
Downloads:
778 x
File Size:
27.53 MB
Downloads:
3103 x