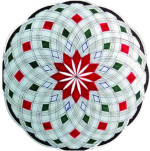 Book Reviews
[2020] Book Review: Ignatius Chukwumah, ed. Joke-Performance in Africa: Media, Mode and Meaning. London: Routledge Contemporary Africa, 2018. xi 290 pp. Illustrations. £120.00. Cloth. ISBN: 978-1-138-06064-7. African Studies Review, 1-3. doi:10.1017/asr.2020.44.
[2013] Book Review: Anne Haour and Benedetta Rossi (Eds.). Being and Becoming Hausa: interdisciplinary perspectives. Leiden and Boston: Brill (pbk €75.00,$107.00 – 978 9 00418 542 5). 2010, xvii+310 pp. Africa: Journal of the International African Institute, Vol 83, No 02, pp. 344-346, May 2013.
[2004] Book Review: Muslim Women Sing: Hausa Popular Song(Beverly Mack, 2004) Ethnomusicology Forum, Nov.2005, Vol. 14 Issue 2, pp. 246-250.
[2014] Book Review: The Role of the Press and Communication Technology in Democratization: The Nigerian Story. The Journal of African History, 55 (1) pp 129-130.
[2003] Book Review: No Child Left Behind: Transforming the Federal Role in Education So That No Child is Left Behind. Washington, DC 2002. Review of the US Government policy on inclusive education. UBE Forum, Vol 3 No 3, 2003, pp. 147-153. UBEC, Abuja, Nigeria.
File Size:
316.03 kB
Downloads:
2069 x
File Size:
418.62 kB
Downloads:
2034 x